Owely have grow up to be nice bird and now ready to fly. We are happy to present first fully working version. There was a lot of changes during last few weeks, some of those changes was very crucial.
From now on Owely.com will be social project without going into bug tracking system, so we removed everything that inform about this. This decision was made during user experience, our users mostly used it for fast screen sharing between colleagues and just as screen memo. So now we have most full version, lets check what is inside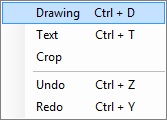 1. Crop - it was most wanted feature to have ability for croping screenshot to show just one area, so now we have 3 different ways of doing screenshot: Ctrl+Win+D - full screenshot, Ctrl+Win+W - active window screenshot, Ctrl+Win+R - capture the region on the screen.
Also there is new tool Crop in the context menu on screenshot editing:
2. Undo/Redo - for thous who make small mistakes it will return normal ability to undo last changes to go throw all process history to the point where it was looking good.
3. Bookmark & Share/Embed code - issue page now have embed code that you can use in your blogs and websites, also there is ability to share your screenshot by "addthis.com" button that more than 100 services such as "Google, Facebook, Twitter,....". Check for this button

4. Domain change, now main Owely address is Owely.com, sorry for inconvenience but you will need login again, and for thous who use saved passwords in browsers will need to store them again.
Basically thats all, check our latest news on this blog. And let us know how you use Owely.